Since 1975, Val-Chris Investments has provided investors with hundreds of millions of dollars of trust deed investments on real estate property.
Trust deed investments are secured by real estate property, minimizing the risk normally associated with private money investing. In an industry that has many fly-by-night companies, our trust deed investors have trusted us year after year because of our three primary principles: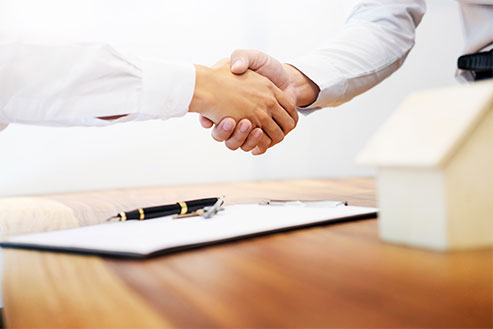 Integrity

Ethical business practices and investment deals.

Dedication

Client service as a priority, not an afterthought.

Transparency

Upfront fee structures and investment vetting.
As a trust deed investment company, Val-Chris Investments, Inc. funds 1st, 2nd, and 3rd deeds of trust on California real property with loan amounts from $25,000 to $4,000,000. If you purchase trust deeds, we can also provide the loan servicing you require for a small fee as we have an experienced and efficient loan servicing department. While any investment has risks, investors have typically been rewarded when investing in trust deeds with secure, high-return yields on quality investments based on our conservative underwriting standards.
Our commitment to investors.
What to expect with trust deed investments.
Improve your investment portfolio's yield with short and medium term, high-yield notes secured by trust deeds.
Trust deed investing is an extremely valuable addition to any portfolio, with numerous benefits and an acceptable risk amount. Since all investments are secured with California real-estate property, there will always be collateral in place to protect against loan defaults. Loan amounts are only given up to 70% LTV as further protection against potential market fluctuation of real-estate property values.
High-Yield Trust Deeds
High-Yield Trust Deeds have extremely flexible investment terms that are beneficial to investors of almost any kind. Generally, investments have shorter terms and consistent cash flow generating income.
FEATURES:
Short & Medium Term Interest Bearing Notes (1 to 7 Years)
Fixed Rate and Step-Interest Rate Notes
Earn rates typically from 7% to 14% annually (and more if paid off early)
Loan amounts vary from $25,000 to $4,000,000
What do I get?
In addition to standard investment documents and terms, you will receive in your possession several items to completely secure your trust deed investment funds.
YOU WILL RECEIVE:
The Original Promissory Note and note endorsement (copies if we service)
A Recorded Deed of Trust and Assignment of Deed of Trust providing you with a secured lien against the property (copies if we service)
A Policy of Title Insurance insuring your investment as Beneficiary
A Liability Insurance Policy Endorsement insuring the property against certain perils
Why use Val-Chris?
Choosing a loan servicing provider is an important decision, and we like to ensure that all of our investors are 100% satisfied with their choice. Here are some of the benefits that we provide directly to our investment clients.
LOAN SERVICING BENEFITS:
Automated full-service Loan Servicing at minimal charge
Collection of borrower's monthly payment
ACH deposits available
We perform all necessary collection effort, including late notices
Assistance with early payoffs and other specialty requests
Dedicate website for simple access to your investment portfolio
We handle all tax-related forms (1098s and 1099s)
If you have any questions about our services with trust deed investors, don't hesitate to contact us. Our team is ready to get your money working for you.